Priority History
Bryan and Lorraine Coleman proudly opened the doors to Priority Home Loans in 2001 and have been serving clients all over Australia since.
Bryan and Lorraine Coleman launched Coleman Finance in March 2001, with a small one room office in Peel Street, Tamworth. Bryan and Lorraine had spent the previous 20 years working in the finance industry and dreamed of a business that provided borrowers with more choice – where the customer's needs and requirements was the priority. The business name was soon changed to Priority Home Loans and so began the Priority Story.
It did not take long for Priority Home Loans to outgrow its cozy home on the corner of Peel Street and White Street, soon moving to accommodate extra staff and increasing clientele. Two offices later, we found a permanent home for the Priority Home Loans office in Tamworth at 214 Marius Street. After renovating, this became the perfect place to grow even more.
As the business continued to expand, Bryan and Lorraine built an extension to the Tamworth office followed by opening an additional office in Newcastle in 2017. Similar to the story in Tamworth, the Newcastle office began in one room located at the Housing Industry Association building in Mayfield but soon expanded to a permanent home at Suite 1 115 Elder Street in Lambton (next door to Piggotts Pharmacy).
"We have always been proud of how Priority was established with professional and good ethics at the forefront, and we instilled this into all our staff, believing in the age-old motto the customer comes first!" – Bryan & Lorraine Coleman
Fast forward to 2022, Bryan and Lorraine decided the time had come to begin their next journey and spend more time with the grandkids and to enjoy a well-earned rest. Bryan and Lorraine handed over the reins of both offices, leaving their valued customers in very capable hands. The Newcastle office is now managed by two of their sons, Blake and Tyler Coleman while the Tamworth office is managed by existing brokers, Craig Mackay, Chris Wolter, and Alisa Walden.
The Priority team continue to give 110% everyday, working hard to deliver exceptional outcomes for their clients.
"We are very proud to continue the work started by our parents, Bryan and Lorraine. We look forward to meeting new clients while continuing to provide the very best service to our existing clientele" – Blake and Tyler Coleman
And so the Priority vision lives on with an experienced team that is extremely passionate about helping people with their finance needs. Having already assisted thousands of customers all over Australia, we're looking forward to meeting with you and welcoming you into the Priority Home Loans family.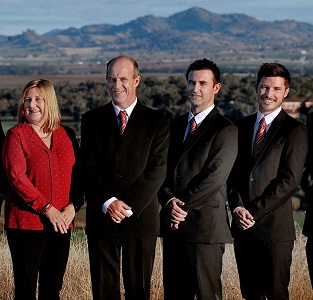 "The Colemans" – (from left: Lorraine, Bryan, Blake and Tyler Coleman)
Priority Home Loans can assist with financing the purchase of your first home, your next home, refinancing, renovating, construction loans, investment loans and more!

Contact us

to find out how we can help you.